Too many website administrators these days overlook uptime monitoring tools and server uptime tracking.
If you're currently hosting a Discord bot, website, or web application that gets visitors, it's in your best interest to ensure your servers are reliable and online 99.9 percent of the time.
Fortunately, obtaining accurate uptime data is what site monitoring tools are built to do – immediately notify you of any downtime and outages. This allows you to get backups running or start error troubleshooting straight away, getting in front of the problem before it can escalate.
For certain businesses relying on the web, extended downtime can significantly impact their bottom line and even cause monetary damages for certain companies depending on the web today.
In the rest of this uptime monitoring guide, we're going to cover some of the best site monitoring services available today, discuss what features you should look for, and jump into improving site performance and reducing downtime.
Let's get started.
What are the best uptime monitoring services?
When it comes to uptime monitoring, a few specific services are a cut above the rest.
Based on user reviews and experiences from long-time users, these services have been consistently reliable and swift in their downtime notifications.
Many of the services listed below offer a live monitoring feature that will notify you when your website goes down. Others provide a historical tracking feature that will show you how your website has performed over the past 24 hours, days, or even over weeks and months.
What server uptime percentage is considered "good"?
With a solid, reliable server (such as our recommended VPS host), you can expect to get a server uptime percentage ranging from 99.8% to 100.0%. For example, in our latest FreshPing report for 37 websites hosted on Vultr VPS Hardware, we had an uptime rating of 100.0%.
The only downside is, it's unmanaged, which means you'll have to use a service such as RunCloud to automatically help you install software and applications on your server (WordPress, Forum Software, etc.)
If you're using shared hosting, you'll likely experience more downtime compared to dedicated or VPS hosting.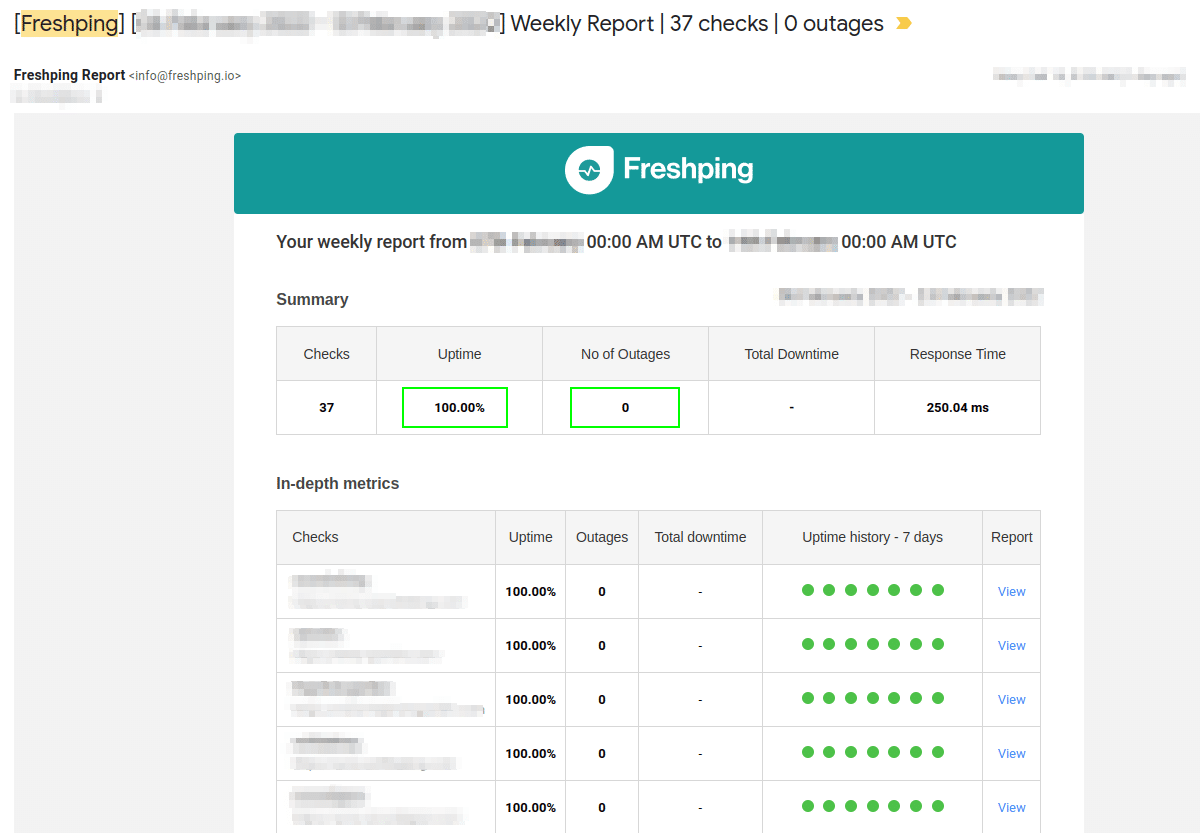 Some of the best uptime monitoring services include Freshping, Uptime Robot, Better Uptime, Uptrends, Uptime, Hexometer, and StatusCake.
Each offers its own unique set of features and benefits, so it's up to you to choose the best outage and uptime monitoring service for your needs.
Depending on the number of websites, applications, or servers you have to track, some will offer more favorable pricing options than others.
At the same time, there are also free uptime monitoring options (such as Freshping up to a limit of 50 sites/servers) that have an excellent user interface (UI) and do their job exceedingly well.
Let's walk through the list and discuss some of the best uptime monitoring services.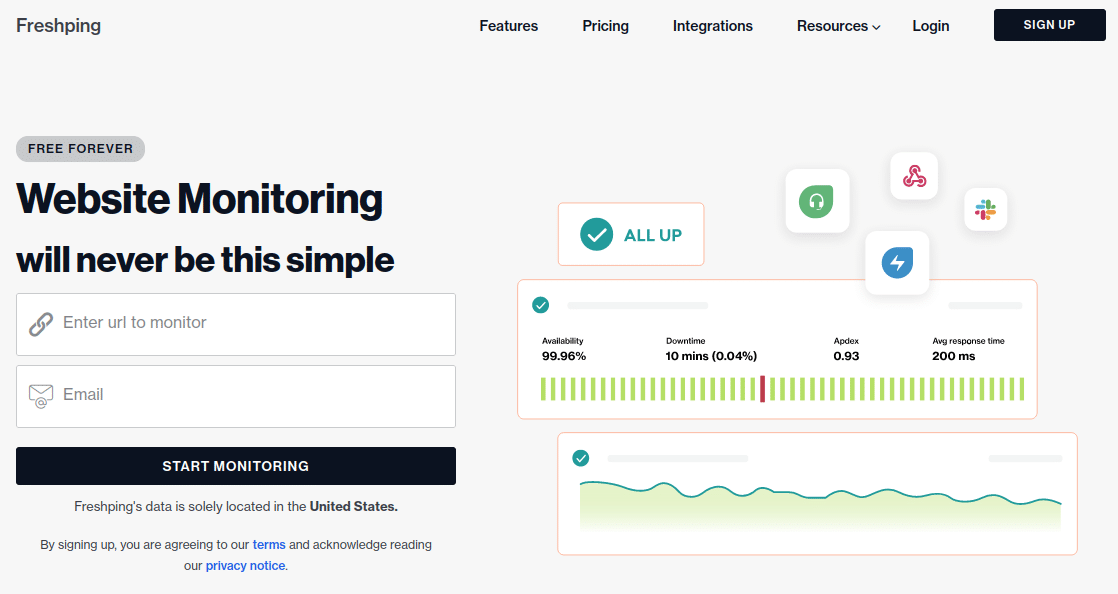 Freshping is a cloud-based uptime monitoring service that provides real-time visibility into the health and status of your web servers.
You can use Freshping to track your website's uptime 24/7, identify and resolve issues quickly, and reduce the risk of downtime.
Best of all, Freshping is free forever for up to 50 checks – it's what we've been using for our web server uptime monitoring for multiple years now, with no regrets.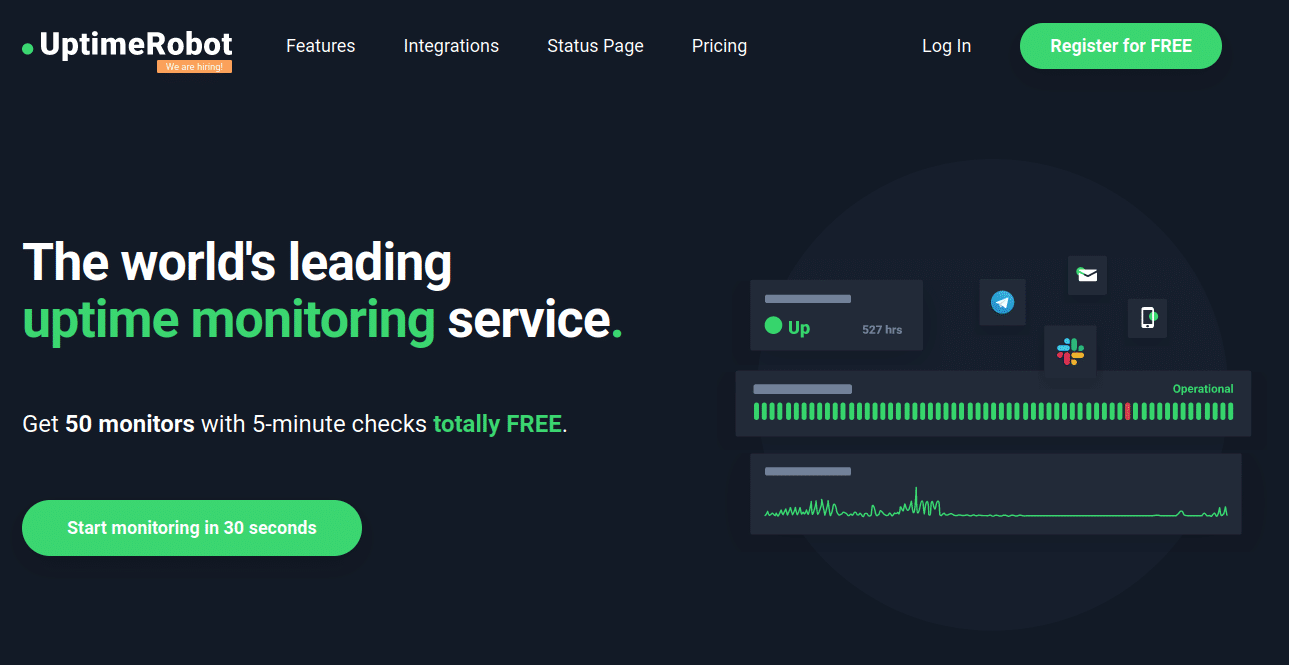 Uptime Robot is a site monitoring service that helps you keep an eye on your website's uptime through a snazzy user interface and an excellent set of features.
Their service offers real-time monitoring of your website's availability, performance, and security, while also letting you use the Uptime Robot dashboard to get insights into your website's health and performance.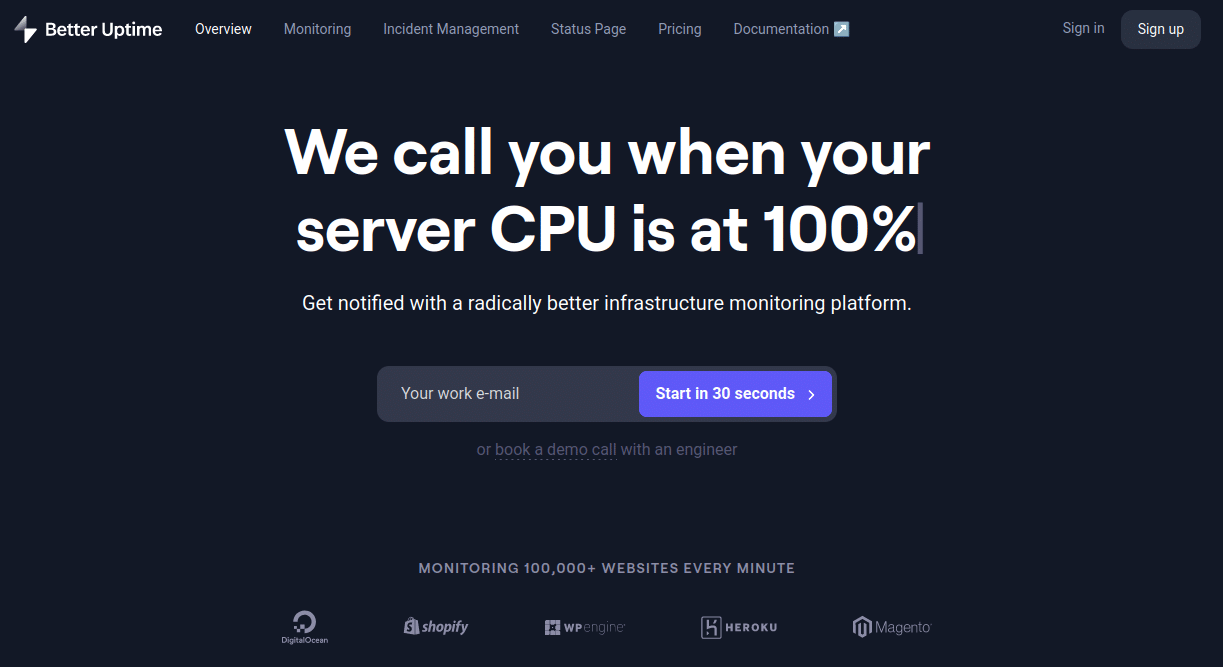 If you're consistently looking for ways to improve your server's uptime, Better Uptime may be an excellent option.
Monitoring uptime is important not only for your own peace of mind, but also for your customers. If your website is constantly down, for example, it can frustrate customers and lead to lost sales.
Better Uptime offers a variety of tools to help you monitor your website's uptime, including real-time monitoring and notifications.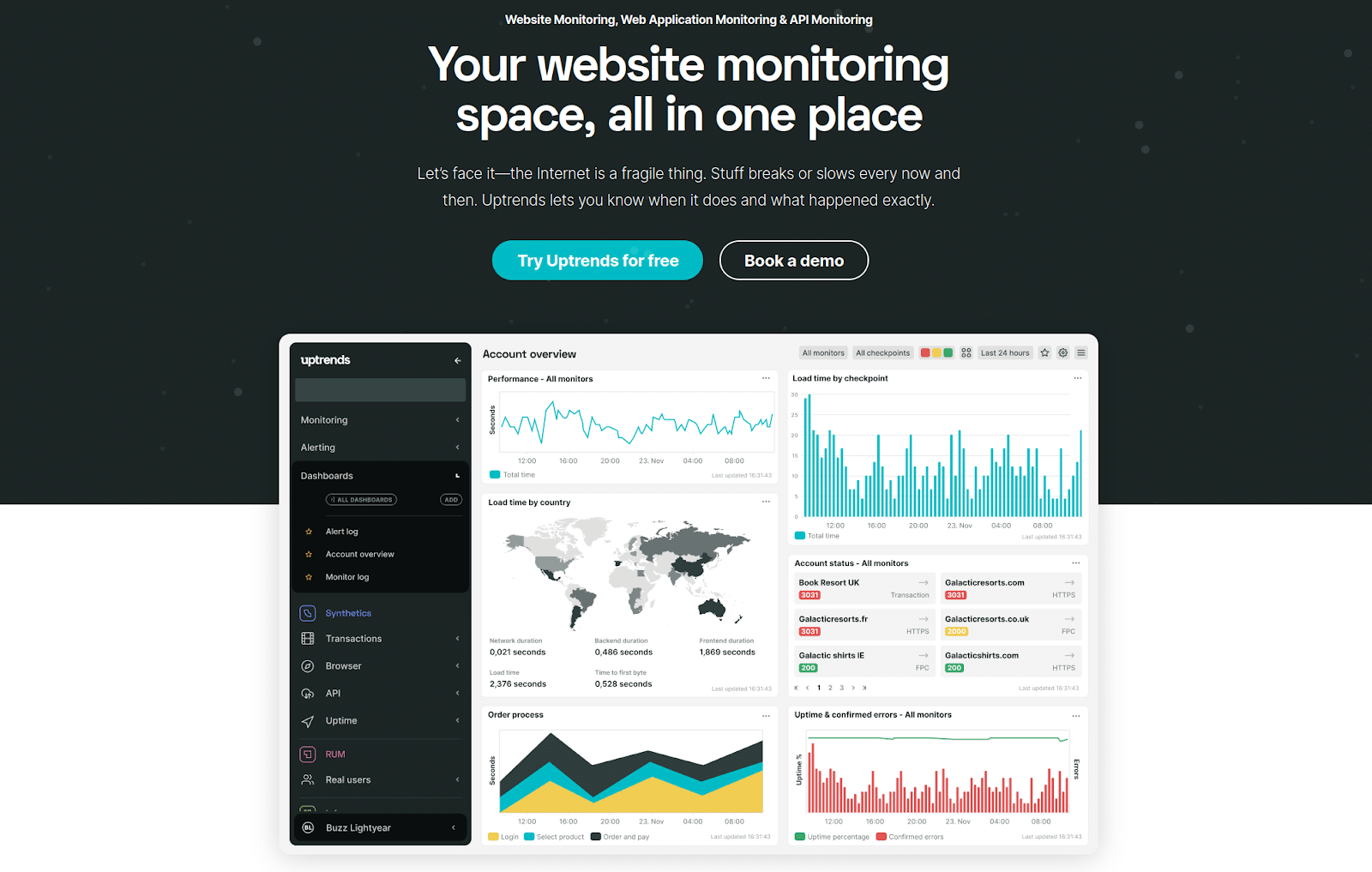 Uptrends is a website monitoring service that has an excellent dashboard for viewing all of your data without any clutter.
You can quickly identify performance trends, and visualize the availability of your tracked servers at a glance.
Custom dashboards, interactive charts, and support for a large selection of protocols (HTTP, HTTPS, SMTP, POP3, Ping, IMAP, FTP, DNS, MySQL, SQL, and Connect) make Uptrends a great monitoring tool.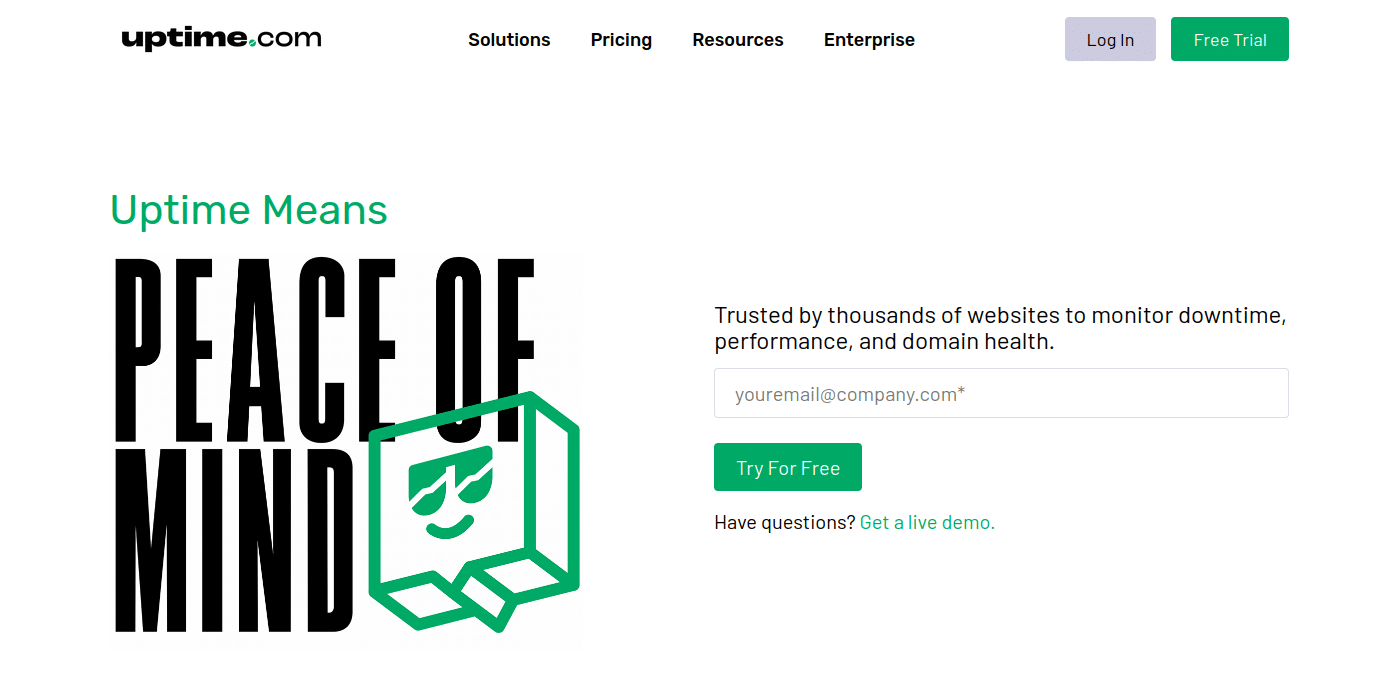 Uptime provides reliable website monitoring checks and thrives on simplicity.
Their monitoring service has been designed to produce less false positives, such as when your website isn't actually down, but their uptime check failed triggering a downtime notification.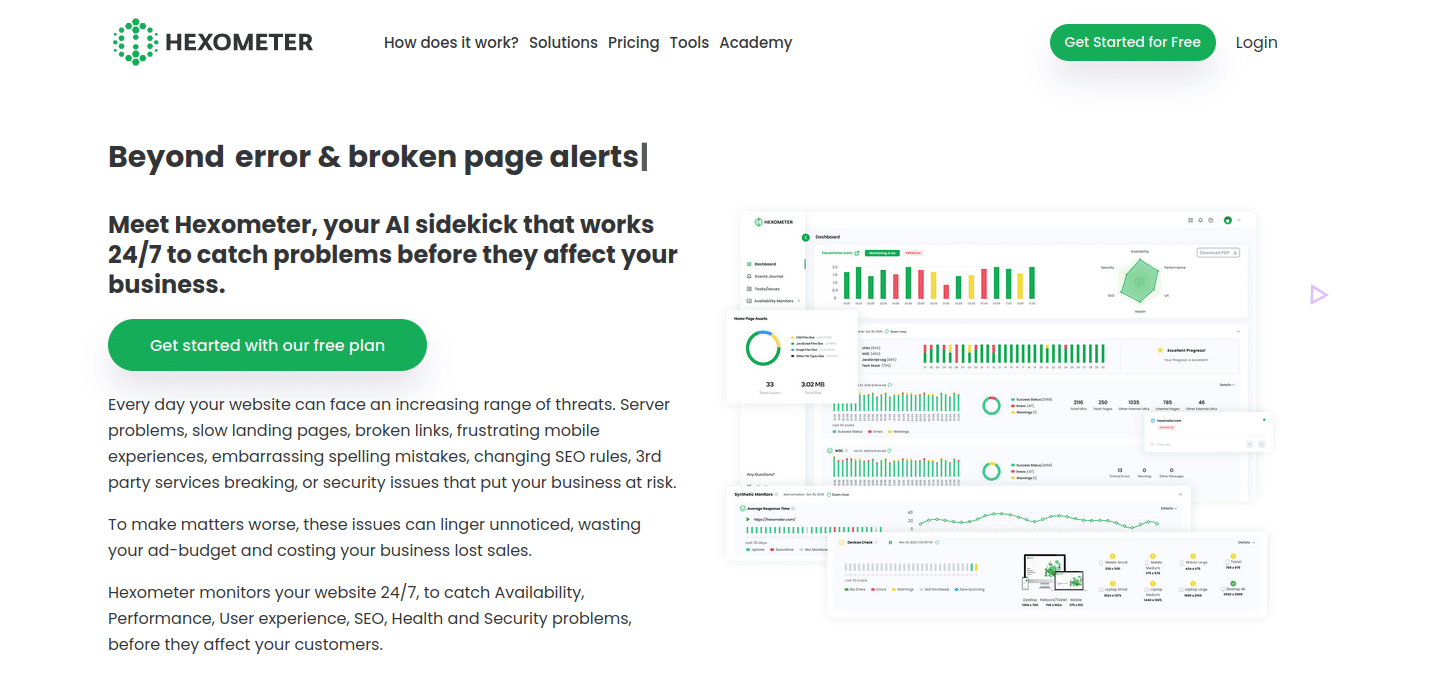 Hexometer is another great website uptime monitoring tool that can help you keep track of the health and status of your website.
It provides real-time updates including errors, outages, and performance issues. You can use Hexometer to monitor your website's uptime 24/7, and get alerted if there is an issue. It also provides real-time graphs and statistics that show the health of your website's infrastructure.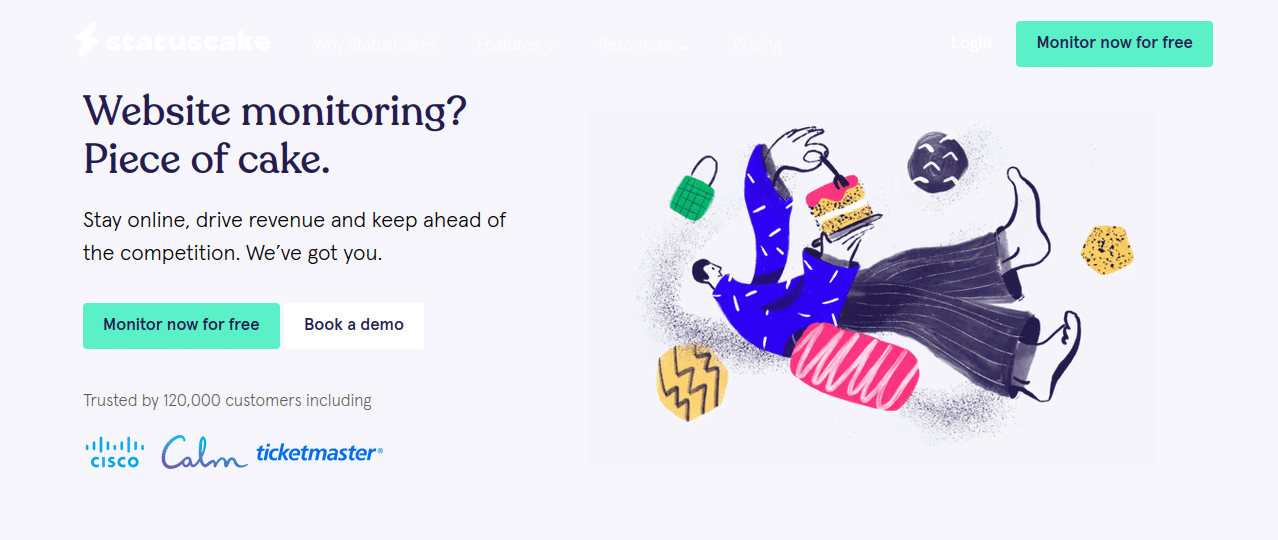 StatusCake offers a variety of features, including the ability to view live updates on the status of your website, track the history of your site's uptime, and receive notifications if your site goes down.
This monitoring tool provides real-time updates and quick alerts for errors, performance issues, and more.
Website monitoring features to look for
When it comes to uptime monitoring and finding a reliable service, there are a few key elements to look for before signing up.
You should ideally pick a site monitoring tool that can:
Give you your website's performance over time.
Track your server's uptime 24/7, 365.
Provide extremely quick downtime alerts, and integrate with a variety of applications through which you can receive an alert.
Offer an easy to use, clean and efficient user interface (UI).
Provide SSL Monitoring capabilities, letting you see whether or not your site is using encryption to protect your data.
Have a free or trial plan (if the service is paid) that allows you to give it a go and see if it meets expectations. Note that there are many free uptime monitoring options available these days as well.
Provide a knowledge base with a well-documented support section to help you troubleshoot any issues as quickly as possible.
Some of these features are more important than others, but most of the uptime monitoring tools we listed earlier have most, if not all, of these features within their applications.
As long as you choose an uptime monitoring service you feel good about, one that meets your expectations, and one that you find reliable and easy to use, you should be all set to proceed.
Why use website uptime monitoring services?
Website uptime monitoring services can help you keep track of your website's availability and performance.
By monitoring your website's uptime, you can ensure that your website is available at all times and verify that it's performing as expected.
Additionally, if there are any issues with your website's availability or performance, you can quickly identify those issues and address them.
How to fix excessive website downtime
Website downtime can be costly, both in terms of lost sales and lost reputation.
To minimize the chances of website downtime, it's vital to track your hosting servers with an uptime monitoring tool and implement some of the suggestions listed below to make your server more resilient.
Some of the steps you can take today to make your website more resilient:
1. Monitor your website's uptime. Use a tool like FreshPing or UptimeRobot to check your website's status every few minutes and alert you of any issues. Uptime monitoring will help you quickly identify and fix any problems before the downtime can impact too many of your users.
2. Check your server's settings. Ensure your server has been configured correctly and that all of the necessary resources are available. Check for outdated software, unused resources, and overused memory.
3. Verify the reliability of your website's hosting provider. Make sure your hosting provider isn't getting overwhelmed (common if using shared hosting, with hundreds of other websites on the same server), and that they have a knowledgeable technical team that can double-check your server's configuration.
Synthetic monitoring vs. real user monitoring
There are two main types of monitoring: synthetic monitoring and real user monitoring.
Synthetic monitoring is when a third party creates a simulated environment and measures the performance of a system in that environment. This type of monitoring is helpful for understanding how a system behaves under controlled conditions, but it is not always accurate or reliable.
Real user monitoring, on the other hand, is when a system is monitored by tracking actual users and their interactions with the system. This type of monitoring is more accurate and can be used to identify problems before they become serious.
When tracking your server's uptime and testing connection reliability between users and your hosted server or application, your uptime monitoring service should be using "real user monitoring" and "real-time monitoring" to get the data.